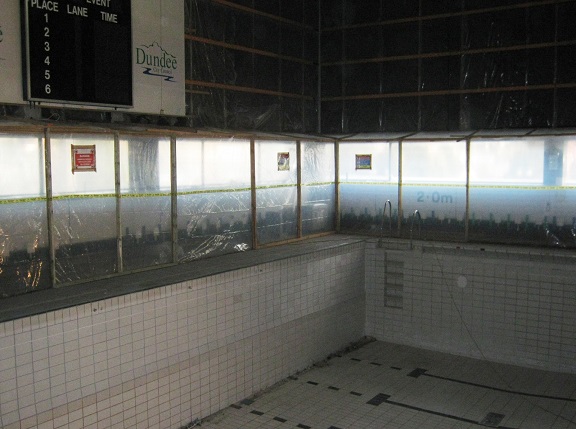 This was a high profile project which generated significant interest from the public, especially since the building was situated along Dundee's busy waterfront. It was well-known amongst locals that there was a large quantity of asbestos containing materials within the building, leading to much scrutiny.
An existing ceiling clad with asbestos had been covered with a new ceiling – directly above the former pool which had a sloping elevation. This created a major challenge as it made safe access to the ceiling area to remove asbestos impossible. Therefore, we had to crush demolition materials and compact these to create a raised platform – allowing for safe access to remove the asbestos from the ceiling.
As the internal areas were very much open plan, we erected temporary side walls to break up the area into smaller areas. This allowed us to create smaller sized enclosures. In addition, purpose designed scaffold platforms and decks were erected to safely give further height for operatives, alleviating some of the risks of working at height.
We were also required to create a false wall on the exterior of the building to contain any asbestos fibres from within the building. This was an important part of the works as it stopped airborne asbestos fibres escaping.
Despite the many complexities of this project, the asbestos removal works were completed safely.