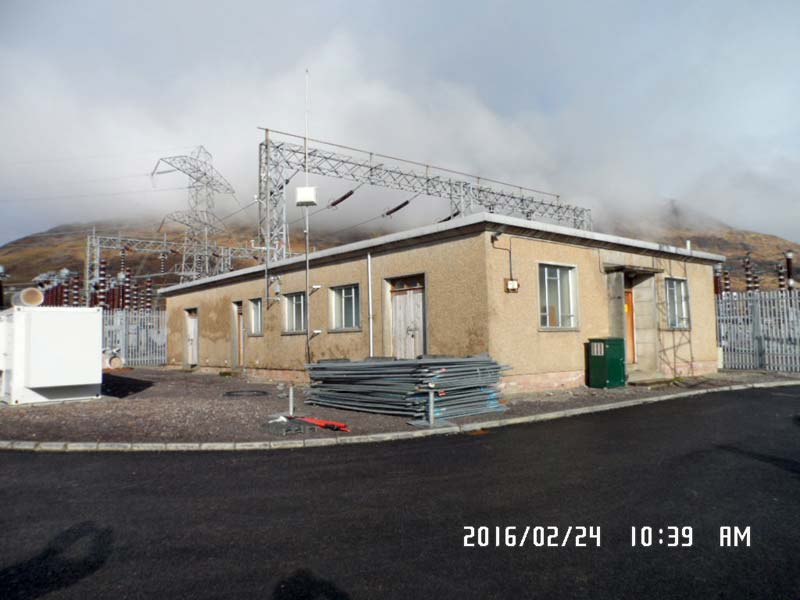 Central Demolition Ltd were awarded the contract for the demolition of the Control Building at Dalmally sub-station. We completed this contract on 23rd December 2016.
Before we could commence the demolition of the building, some preparatory work was required, this included soft stripping the building of all its contents, erecting heras fencing around the site to restrict unauthorised access and removal of non -licenced asbestos. We also removed batteries from the building and oil from 25L drums as well as the oil from 1 transformer and 3 compressors from the site which were taken away and processed by an external contractor due to the specialist contents.
The non-licensed asbestos that we removed from the site included fuse guards, gaskets, toilet cisterns which was all as per the asbestos survey which we carried out prior to starting the work.
After all the asbestos removal was completed, we commenced the demolition of the building. We demolished the building using 29 tonne Dem-Spec excavator with attachments. We also removed the floor slabs and then carried out a 70mm reduced dig over the site.
We then backfilled in layers of 6f2, type 1 and surface chippings. We left the site level and tidy and all materials to be recycled were then taken by a local contractor.
There were no live building that we needed to take into consideration of this project as the live sub-station was over 150 feet away from where our operatives were working, this created a safer environment with no extra significant risks other than what our operatives are aware of on a demolition site. The only challenge that we faced was that the site space was quite tight and the building structure was quite large when did not leave a lot of room for our large excavator but this was overcome easily as our operatives and machine-men are highly skilled.
The contractor that we used for recycling the clean brick and concrete were a licensed recycling contractor and tipping facility that were close to the site, called MacDougall Transport. They recycled a total amount of 921.90 tonnes of brick and concrete for us for the duration of this project.
The project was completed within 3 weeks, within the agreed budget and to complete client satisfaction.