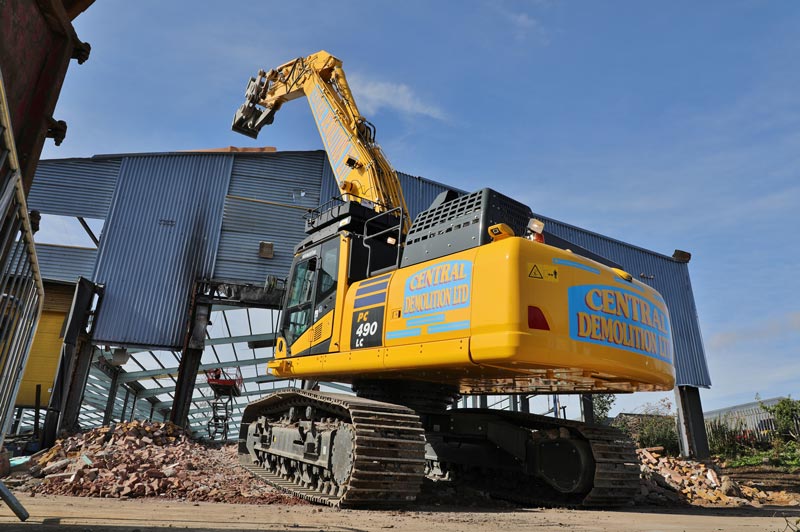 Central Demolition Ltd were awarded the contract for the demolition and the asbestos removal works at Baileyfield South Industrial Estate, Portobello. We completed the works in December 2018.
The project consisted of 12 steel framed sheds in which licensed asbestos was removed from 10 of the steel sheds.
A small amount of preparatory work was required on this project which included tree felling and then removal of trees. After this was completed, we moved on to the asbestos removal side of the project.
The asbestos removal section of this project was an interesting challenge for central demolition as we found when we arrived on site that the asbestos roof sheets had been drilled through and fixed to the steel roof sheets which meant our usual method of removal would not be suitable for this project. We consulted with the HSE and worked out a new method to remove the sheets with operatives working at height. This was a risk that had to be managed by using scissor lifts as a way to safely access the roof sheets at height.
The next step in the project was the demolition works of the steel shed structures as this required careful dismantling as the sheds were to be sold for re-erection where possible. All concrete from the foundations and floors of the structures was crushed as 6F2 to be re used in the construction process of the housing development. The land was then levelled and handed over to the ground workers, ready to start the building process for the development.
The recycling rate on this project finished at 92%. We finished on time, within budget and to complete client satisfaction. It is also important to note that we completed this project to the satisfaction of the HSE and independent analysts as they visited site on multiple occasions due to the unusual methods of asbestos removal that were being utilized.