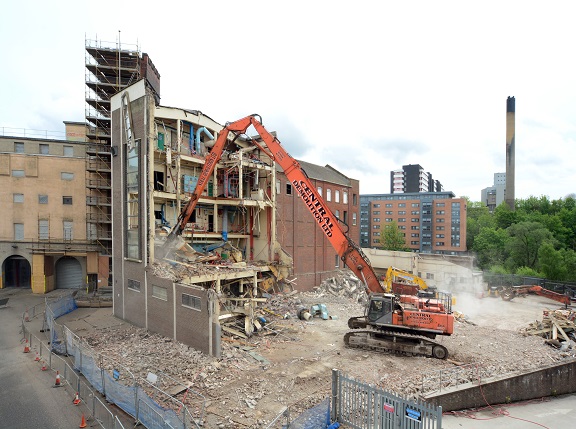 Central Demolition Limited were awarded the contract for the demolition of the former Rank Hovis flour mill in Glasgow.  This was undoubtedly one of our most complex undertakings in recent years.
The mill was located in a built-up area, with residential and commercial properties in close proximity.  Most notably, the mill was attached to Glasgow University's archive building by a 750ml thick wall.  The complications this created were heightened by the presence of opening windows on the adjoining building.  The adjoining building housed archived documents from the University and so it was of paramount importance that these were protected from dust for the duration of our works.
To highlight the complexities that the adjoining wall brought to the project – the wall alone took 9 weeks to demolish as the works all had to be completed by hand demolition.  Due to this, we had to control hand-arm vibration and rotate our workforce periodically to prevent over-exposure.  We utilised HAV meters to ensure that we did not exceed the stipulated regulations.  To facilitate our works we had to block off the windows with a 9 inch brick wall.  Health and safety best practice and communication was critical on this site as we demolished the final wall whilst the client was constructing on the same site.
Before tackling the adjoining wall, we demolished the rest of the mill first.  Supporting walls were left in place to give stability to the adjoining wall.  This part of the works took 12 weeks to complete, and involved temporary lane closures and pedestrian re-routing so that we could undertake our works safely.  To protect the University's entrance door and maintain the access and egress route, a crash deck was constructed for health and safety purposes.
Initially the planners wanted the clock tower structure to be demolished brick by brick, and for those bricks to be saved.  However, further to inspection it became apparent that the structure was constructed of clay bricks which were bedded within 6mm beds and were spoiling; therefore they couldn't be saved.  The planners accepted this and so the structure was surveyed and drawn by architects, and the structure was to later be rebuilt to look the exact same aesthetically as the existing structure.  As part of our works, we saved some of the building's special features – these were craned, palletised and stored for reuse.
The project was completed safely and was delivered on time and to budget.  Our client was satisfied with our professionalism and our high standard of work on-site.